We're delighted to unveil the official Top 25 winners of the "OP Boost" Competition that concluded at the end of September! This competition was designed to deepen your understanding of the Hedging Swap service and to reward the top in-profit swappers. The event has been remarkably successful, and we are thrilled to share the details with you all!
Market Performance
The competition has observed some extraordinary market dynamics, with participants seizing every opportunity to maximize profits.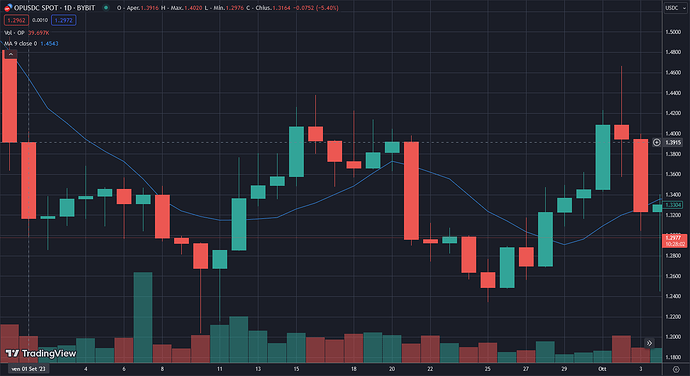 For example, the OP token demonstrated substantial volatility, presenting traders with numerous opportunities to optimize their profits: it started the month at 1,39 USDC countervalue, lowering to 1,20 and than back to 1,40 and more, twice! MetalSwap's best users rided these waves, and today we celebrate the Top25!
Leaderboard Highlights

The King of the Swappers is 0x6E7f...8E49, with an extraordinary 86.55% of profit!

Best Swap of the competition was made by 0xb3D6...179E, securing a profit of 67.24% and also claiming the second spot on the leaderboard!
Full "OP Boost" Top 25 Leaderboard (and rewards):
1st Place: "Golden King of the Swappers" - 0x6E7f...8E49 - 86.55% profit (200 USDC)

2nd Place: "Silver Knight of the Swappers" - 0xb3D6...179E - 67.24% profit (150 USDC + Best Swap Bonus)

3rd Place: "Bronze Spade of the Swappers" - 0xba77...b581 - 64.35% profit (125 USDC)

4th Place - 0xe304...F801 - 63.54% profit (65 USDC)

5th Place - 0x706F...D510 - 63.01% profit (65 USDC)
6th to 10th Place (Each receiving 50 USDC)
0xBf2b...FEFd - 61.99% profit
0x88d9...bF85 - 55.30% profit
0x7592...37D1 - 53.58% profit
0x9f25...9052 - 52.48% profit
0x088d...024A - 49.26% profit
11th to 19th Place (Each receiving 25 USDC)
0xb21A...1c46 - 48.35% profit
0xf4Bb...85a - 44.55% profit
0x4E17...519 - 43.17% profit
0x6b37...1d3 - 41.75% profit
0x85Bb...aac - 38.26% profit
0x3EdF...A91 - 38.26% profit
0xC49a...eea - 37.13% profit
0xAB5E...ede7 - 34.83% profit
0xe018...80e - 34.65% profit
20th to 25th Place (Each receiving 20 USDC)
0x4B89...fa2 - 31.26% profit
0xcFf7...bFa - 24.95% profit
0xf2Ab...e16 - 24.53% profit
0xBB57...4d8 - 24.50% profit
0x3A36...798 - 17.45% profit
0x37E0...4d3 - 17.05% profit
Distribution on Optimism Chain
Following the tradition of our previous competitions, rewards will be distributed on the Optimism Layer-2 chain. Expect the rewards to be disbursed by the end of October.
Embarking on New Adventures in DeFi
Although we have concluded the "OP Boost" Competition, our exploration in the universe of DeFi and Asset Management is still unfolding. We remain dedicated to unveiling new challenges, experiences, and opportunities.

Upcoming Excitement: MetalSwap's newest competition, called "Galxe Evolution" is just begun - Don't miss the chance to join in!
Until we meet again, continue to explore, trade wisely, and discover the limitless opportunities in DeFi!
*Edit: distribution was completed on 12 /10 /23